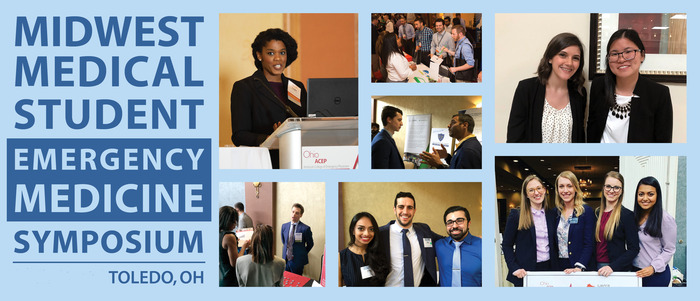 Proudly presented by:

Med Students: If you're considering Emergency Medicine for residency, this is the med student-focused EM event for you!


We know the residency match process can be overwhelming. That's why we're teaming up with the EMRA, the Michigan and Indiana Chapters of and some of the top residency programs to show med students the ropes on choosing the right residency, rocking your interview, and standing out from the competition!
At the Midwest Medical Student Symposium, you'll get the chance to meet one-on-one with dozens of residency directors and faculty members from some of the country's top EM residencies—all in a relaxed, fun atmosphere!
Residency Fair

Plenty of "facetime" with residency directors from top programs all over the country
Click Here to register your Residency Program for the Residency Fair!

Preparing for the Match

Sessions and panels to help you better prepare for the residency match process:

Planning Your 4th Year
How to Shine During Rotations
What Type of Residency Is Right for Me?
How to Create an Exemplary CV and Personal Statement
Rocking the Interview: How to Stand Out
Program Directors Discussion Panel