Advocacy Updates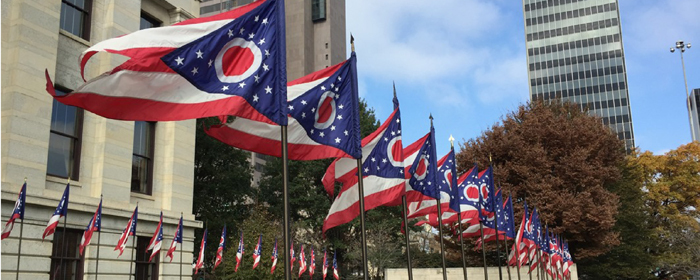 What We Are Watching at the Ohio Statehouse
Ohio ACEP is following a number of legislative issues related to the practice of emergency care in the state of Ohio.
---
State Budget Process Begins
The first half of odd numbered years are dominated by debate on the state's biennial budget bill. The process starts with the Governor's proposal, which has been introduced as House Bill 33. The House is the first chamber to consider the proposal and is expected to make significant changes before passing the bill to the Senate for consideration. The process will culminate with a conference committee in June to craft a final bill for enactment.
In the Governor's State of the State address January 31, 2023, DeWine highlighted his priorities for the budget. These continue and expand upon his priorities during his first term as Governor. Those priorities include children's initiatives like his student wellness and success funds and a fair school funding formula. He is also continuing his priorities regarding water quality through the H2Ohio programs and funds.
The bill also contains provisions regarding the post-COVID Medicaid "unwinding" and increases the threshold for Medicaid eligibility for pregnant woman and offers universal eligibility for adopted children under 19, so more of them qualify for coverage. The bill also permits the Medicaid Director to seek approval from CMS to establish one or more physician directed payment programs for directed payments for nonpublic hospitals and the related health systems. The programs must advance the maternal and child health goals of ODM's quality strategy.
There is also a $1 million appropriation per fiscal year to continue the emergency department comprehensive care initiative to enhance Ohio's response to the addiction crisis by creating a comprehensive system of care for patients who present in emergency departments with addiction.
Concerning Medicaid Emergency Coverage Change Proposed
Medicaid is revisiting this policy change that Ohio ACEP successfully objected to just a few months ago. The changes proposed to these covered services rules would allow some retro-active denials for care delivered in emergency situations. While Medicaid reversed course on these changes back in May of 2022 because of Ohio ACEP's objections and advocacy, they are proposing the same language deletions as they did previously. Ohio ACEP is very disappointed that we were not invited to submit comments during the early outreach period and in fact Medicaid only consulted with the managed care plans. We have submitted initial comments objecting to the changes and hope Medicaid will not move forward with officially filing for the change with JCARR.
EMS Continuing Education Issue to be Addressed
Ohio ACEP is aware of an issue with a provision passed at the end of 2022 as part of HB 509 that would cause problems with EMS personnel receiving continuing education. Currently, EMS training programs must be accredited, and continuing education providers must be approved by the EMFTS Board. A change included in HB 502 would require training and CE programs to both be accredited. This would preclude hundreds of currently approved CE providers from continuing to offer their continuing education. Ohio ACEP is working with a number of stakeholders to get this issue corrected and returned to prior law. Legislation, House Bill 52, has already been introduced by Representatives Sarah Fowler Arthur and Marilyn John intended to address this pressing issue. Ohio ACEP looks forward to working towards swift passage.
Telehealth Rules Finalized
The Ohio Senate Medical Board has finalized their rules regarding telehealth. The full package includes rules regarding prescribing controlled substance via telehealth, rules for assisting patients in obtaining emergency care should they need it, and rules on general standards of care when providing healthcare via telehealth. The full rule package can be found here.
Representatives Propose "Transparency" Law
Rep. Ron Ferguson and Tim Barhorst held a press conference on February 14, 2023 regarding a bill addressing healthcare price transparency. The bill was ultimately introduced as House Bill 49. The bill is intended to align Ohio's law with the federal hospital price transparency law. Under the legislation, the Ohio Department of Health would have authority over the enforcement of the price transparency requirements, including issuing fines for non-compliance. If a hospital is not compliant, the legislation states that medical bills would not be able to be sent to collections; hospitals would be prohibited from going to court over medical debt; and hospitals would be prohibited from filing reports on medical debt to impact consumer credit scores.
Efforts Regarding Abortion in Ohio
Representatives Jennifer Gross and Beth Lear have introduced legislation (House Bill 15) requiring an ultrasound before an abortion is performed. This ultrasound requirement requires additional disclosures and explanations to the pregnant woman. The bill also expands the informed consent document to state that abortion increases a woman's risk to breast cancer and risks for short and long-term mental health issues. The bill gives the Department of Health audit and enforcement authority over compliance with this requirement. The legislation does retain the current medical emergency exemption.
We expect additional bills on this topic to be introduced. Ohio ACEP also expects an Ohio ballot initiative effort from pro-choice organizations like those that have been successful in other states. The groups working on the effort have filed language for the initiative with the Attorney General's office. The language can be found here.
Mental Health Assistant Legislation Reintroduced
Senator Gavarone has introduced Senate Bill 60 creating a mental health assistant license. We expect a companion bill in the House. The bill is being supported by NeoMED, which has a current program to provide a coursework track for this new license, as well as NAMI Ohio.
The provisions included in the legislation are as follows:
In general, creates a new certified mental health assistant license under the State Medical Board that is on par with a PA/APRN and grants them prescriptive authority.
Must practice under supervision by and a supervision agreement with a physician. A physician can supervise a max of 5 CMHAs at once
Can't treat patients for anything not in DSM of mental disorders, and can't provide care until a physician gives a patient a diagnosis, can't make initial diagnoses
Can order tests, prescribe drugs, practice telehealth, refer to physical therapy, and other activities in line with a PA
Can pink slip patients but only after consulting with supervising physician