Advocacy Updates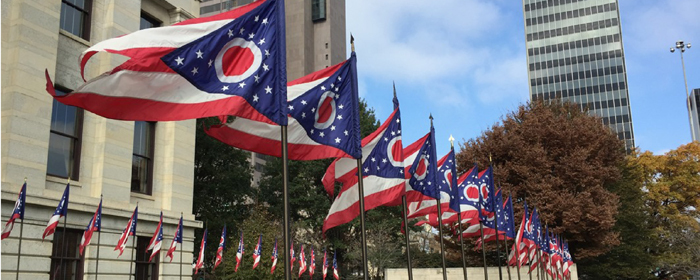 What We Are Watching at the Ohio Statehouse
Ohio ACEP is following a number of legislative issues related to the practice of emergency care in the state of Ohio.
---
EMS Bills Introduced
House Bill 303 has been introduced by Representatives Thomas Hall and Nick Santucci regarding EMS training. The legislation would require the EMFTS Board to establish a process by which any person may submit a petition to the board requesting that a topic be included in a training or continuing education program for first responders, EMTs-basic, EMTs-I, or paramedics that is in addition to the topics specified in section 4765.16 of Ohio law. The Board would also create a process to consider those submitted proposals. HB 303 will be considered by the House Homeland Security Committee.
Another EMS bill under consideration in the legislature is House Bill 261 from Representatives Tom Patton and Bride Rose Sweeney. This proposal would allow certain EMS workers to enroll in the Public Employees Retirement System, public safety division.
"Medical Conscience" Legislation Introduced
Representatives Jennifer Gross and Scott Wiggam have introduced House Bill 319, regarding protections for employees, students and others who refuse medical interventions including vaccines. It would generally prohibit discrimination based on someone's vaccination status. This includes hospitals, nursing homes and any other public place. Under the bill, unvaccinated individuals, or individuals that refuse any medical interventions covered under the bill, could not be treated any differently than those who have been vaccinated or received certain medical interventions. Entities that didn't comply with the provisions of the bill could face civil penalties. HB 319 has been referred to the House Health Provider Services Committee.
Election Update
On November 7, 2023, Ohioans went to the polls to vote on 2 high profile statewide ballot measures. According to unofficial results from the Secretary of State's office, the results are as follows:
Issue 1, a Constitutional amendment regarding reproductive rights has passed 56.62% to 43.38%
Issue 2, an initiated statute to legalize recreational marijuana has passed 56.97% to 43.03%
Regarding the provisions of Issue 2, the language does specify that adult use is permitted/lawful but does not prevent businesses or public places from adopting their own regulations regarding use of the substance on their property. In fact, it specifically says: This chapter does not do any of the following: (4) Require any public place to accommodate an individual's use of adult use cannabis; (5) Prohibit any public place from accommodating an individual's use of adult use cannabis.
Republican legislative leaders have already speculated they could consider changes to the language passed in Issue 2. Since this was pursued as an initiated statute, they do have the authority to modify the language through the regular legislative process. Representative Cindy Abrams has already introduced legislation, House Bill 326 that would direct tax collected from recreational marijuana sales to law enforcement training.
APRN/PA Legislation Passes Ohio Senate
Senate Bill 81 is sponsored by Senator Mark Romanchuk and would make changes to APRNs' and physician assistants' scope of practice. The bill does retain the requirement that APRNs have a standard care arrangement and PAs have a supervisory agreement with a physician.
Under the substitute bill accepted by the Senate on September 20, 2023, those agreements could give APRNs the authority to "sign any document relating to the admission, treatment, or discharge of an inpatient receiving psychiatric or other behavioral health care services," The APRN and the collaborating physician must be employed by the hospital where the patient is receiving inpatient psychiatric or behavioral health services.
The bill also would allow a physician assistant's supervisory agreement to give them the authority to sign documents related to the admission, discharge, or treatment of patients in a hospital. The PAs supervising physician must also be employed by the hospital or a member of the hospital's medical staff.
The bill provides some civil liability protection to the physician for adverse action that could arise from the APRN or PA signing the forms. This legislation is being considered by the Senate Health Committee. At the sponsor hearing before the Senate Health Committee, Senator Romanchuk indicated the bill is intended to decrease barriers to admitting patients with behavioral health needs. The Ohio State Medical Association and the Ohio Hospital Association are neutral on the legislation. The legislation was passed by the full Ohio Senate on November 15, 2023, by a vote of 29-1.
Want to Learn More?
If you're interested in viewing the status of all of the bills Ohio ACEP is tracking, you can find that here.