Emergency Medicine Foundations Curriculum
Rivers' Written Board Textbook - Order Here!
Thank you for your interest in utilizing Ohio ACEP's Dr. Carol Rivers' Preparing for the Written Board Exam in Emergency Medicine, 8th Edition, as part of the Emergency Medicine Foundations curriculum.
Pricing reflects a 25% special discount that Ohio ACEP offers to Emergency Medicine Foundations curriculum participants. Participation in the program will be verified prior to orders shipping.
Two Ways to Place Your
Order Online!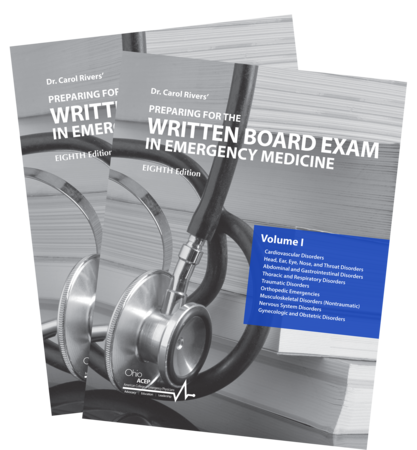 1. Individuals & Programs who want to pay online with a credit card
2. Programs who would like to be invoiced for their order.
Note: Product orders do not ship until payment is received.
If you have questions regarding your order or if you would like to place an order for more than 50 textbooks, please contact Stephanie Posey at Ohio ACEP by calling (614) 792-6506 or e-mail sposey@ohacep.org.
---
Emergency Medicine Foundations Curriculum
Course Creator and Course Director: Kristen Grabow Moore, MD, MEd
For additional information please visit: www.emergencymedicinefoundations.com