Save the Date
April 14, 2018

Three great chapters are teaming up for one big event!

Proudly presented by:

April 14, 2018
DoubleTree by Hilton
175 Hutchinson Ave
Columbus, OH 43235
#EMMedStudents18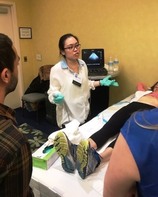 On April 14, 2018, Ohio ACEP, Michigan College of Emergency Physicians, West Virginia ACEP, and EMRA will team up to offer the Midwest Medical Student Symposium! Don't miss out on this one-of-a-kind event!
We know the residency match process can be overwhelming. That's why we're teaming up with some of the top residency programs from around the country to show med students the ropes on choosing the right residency, rocking your interview, and standing out from the competition.
Plus:
Residency Fair—Network one-on-one with faculty & directors from many of the region's premier programs
Skills Labs—Hands-on practice sessions led by expert faculty!
Registration Coming Soon!
---
Here's what residency program directors and attendees have to say about the Symposium!
"It is so nice to see candidates on my interview schedule who I initially met at the Symposium. Go! You won't be disappointed."
- Sorabh Khandelwal, MD; Program Director, The Ohio State University


"This information is vital to all 3rd years and even for 2nd years about to start their clinical rotations... Not many other events allow for such great close interaction with program directors of some of the best residencies around. Compared to fairs at things at national conferences, it is much easier to learn about programs in this smaller environment."
- Michael Messina, OMS-III; Ohio University Heritage College of Osteopathic Medicine


"The Medical Student Symposium and Residency Fair is an excellent opportunity for academic discussion, skills enhancement, and to network with program directors to gain an edge when applying to emergency medicine residency programs."
- William Fraser, DO, FACOEP-D; Program Director, Doctors Hospital-OhioHealth
---
Emergency Medicine Interest Groups (EMIGs) at Ohio Med Schools:
Case Western University School of Medicine

Cherry Jiang, co-chair
Ethan Radzinsky, co-chair
Eric Reed, co-chair



Northeast Ohio Medical University

Katherine Scholp, President
General EMIG email



The Ohio State University College of Medicine

Anthony Vargas, President



Ohio University Heritage College of Osteopathic Medicine - Athens Campus

Christopher Sosnofsky



Ohio University Heritage College of Osteopathic Medicine - Dublin Campus

Kathryn Oehlman



Ohio University Heritage College of Osteopathic Medicine - Cleveland Campus

Bradley Palocko



Will Trautman
Tyrel Fisher



University of Cincinnati College of Medicine

General EMIG email



University of Toledo College of Medicine

Ali Abou-Alaiwi



EMRA Great Lakes Rep

Michael Messina


---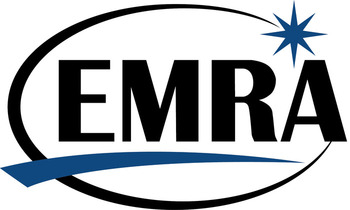 Did you miss the 2017 Med Student Symposium?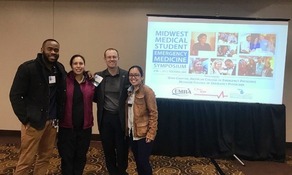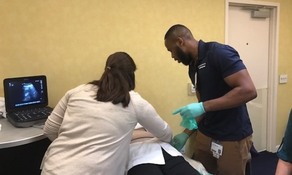 ---
Medical Student Study Tool
Based on the
CDEM curriculum

$49 - Medical Student Price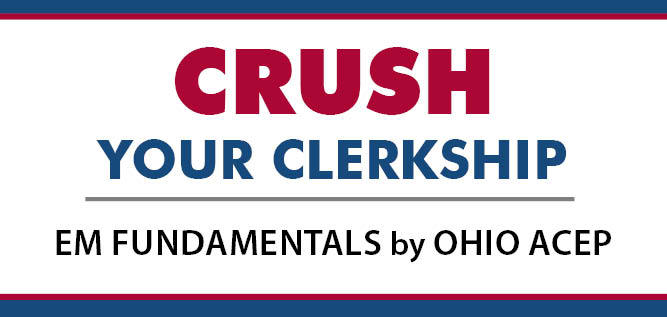 Crush Your Clerkship: EM Fundamentals by Ohio ACEP

is a comprehensive review of essential concepts for medical students preparing for an EM clerkship or EM exam.




21 Lectures by Renowned Faculty

Watch the PowerPoints and Listen to the Synched Audio
---