Welcome
Ohio ACEP is a state medical specialty society representing emergency medicine (EM) with more than 1,500 emergency physician members. Ohio ACEP is committed to advancing emergency care through continuing education, research and public education, and assuring access to high quality emergency care for the people of Ohio.
Latest News
Courses
Conferences
Now Accepting Nominations for 2017 Annual Awards
Deadline Extended to March 5!
2017 Annual Awards Nomination Packet
Past Award Recipients & Additional Info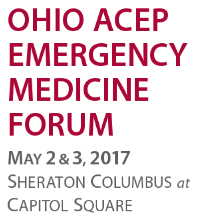 ---