Save the Date for the 2018 Emergency Medicine Forum!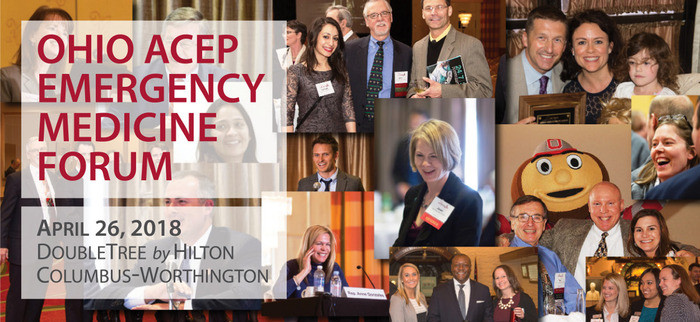 Stay tuned for more information and registration!
---
2017 Emergency Medicine Forum
On May 2 and 3 in Columbus, the Ohio Chapter of ACEP held its 2017 Emergency Medicine Forum. Attending physicians, EM residents, medical students, and Ohio legislators gathered for two days of physician advocacy, leadership topics, medical education, and networking. If you weren't able to join us, here's what you missed!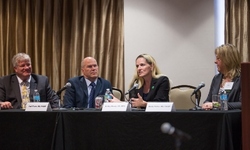 At the "Faces of Physician Leadership" panel, five national leaders in emergency medicine—Drs. Jim Augustine, Paul Kivela, K. Kay Moody, Rebecca Parker, and moderator Ryan Stanton—fielded timely questions about how physicians can support residents, physician wellness, and taking leadership roles in healthcare.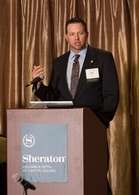 Dr. Ryan Stanton, host of ACEP Frontline, then led an enlightening session on the opioid epidemic, "Pain-Free Prescribing: Trends in Opioid Use & Abuse." Dr. Stanton's powerful presentation focused on how the crisis has evolved, where it's going, and how emergency physicians can lead the way in fighting it.
EM Leadership Forum attendees gathered at the Ohio Statehouse for Morning Rounds & Coffee Grounds, a wonderful opportunity for emergency physicians to introduce themselves and network with their legislators over coffee. Ohio ACEP members spoke with legislators and their aides about emergency medicine and introduced themselves as valuable resources for healthcare issues.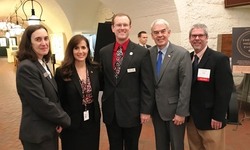 Also at Morning Rounds & Coffee Grounds, Drs. Andy Little, Drew Kalnow, and Tanner Gronowski recorded a special EM Forum episode of their popular podcast, EM Over Easy!
Dr. Andrew Asimos presented the first clinical session of the Forum, "Game Changing Procedures in Stroke Management," followed by Dr. K. Kay Moody's empowering workshop, "Take Back Medicine: Healthier Doctors = Healthier Patients."
At the Membership Luncheon, we were honored to be joined by guests from National ACEP: College President Dr. Rebecca Parker and President-Elect Dr. Paul Kivela, as well as Dr. Jim Augustine, who is also a Past President of Ohio ACEP. We were also honored to recognize thirteen Ohio ACEP Past Presidents at the luncheon:
James Augustine, MD, FACEP: 1994-1995
Eileen Baker, MD, FACEP: 2007-2009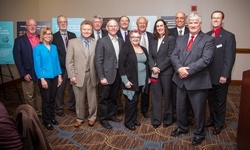 Mark DeBard, MD, FACEP: 1990-1991
Thomas Hall, MD: 1982-1983
Mary Hancock, MD, FACEP: 2003-2005
Bruce Janiak, MD: 1979-1980
Nicholas Jouriles, MD, FACEP: 1997-1998
Gary Katz, MD, FACEP: 2009-2011
Brian Keaton, MD, FACEP: 1991-1992
David Keseg, MD, FACEP: 1998-1999
John Lyman, MD, FACEP: 2013-2015
Catherine Marco, MD, FACEP: 2006-2007
John McCabe, MD, FACEP: 1986-1987
Dr. McCrea then introduced the members of the new 2017-2018 Leadership Development Academy class, Christina Campana, DO; B. Bryan Graham, DO; Amy Raubenolt, MD, MPH, MEd; Tona Rios-Alba, MD; Jeffrey Ruwe, MD; Peter Toth, MD; and Matthew Vrobel, MD.
Afternoon highlights:
Drs. Paul Kivela and Michael Weinstock's informative and engaging session, "Monster Claims: How Recognition of Medical Risks Can Make Patients Safer."
Ohio ACEP Board Member Dr. Ryan Squier gave the Chapter membership an update on the NIX Opiates program, a unique campaign to bring emergency physicians to Ohio high schools to talk candidly with students and parents about the science of addiction and overdose.
Rep. Robert Sprague joined the Forum for "Advocacy & the EM Physician", where he gave a briefing on Ohio's efforts to fight the opioid epidemic and discussed how physicians can affect positive change in health policy.
Ohio ACEP Annual Awards
Michael McCrea, MD, FACEP
Bill Hall Award for Service to Ohio ACEP

Ryan Squier, MD, FACEP
Emergency Physician Advocacy Award

Creagh Boulger, MD, FACEP
Emergency Medicine Education Award

David Bahner, MD, RDMS, FACEP
Emergency Physician Leadership Award

Christopher Bazzoli, MD
Outstanding EM Resident of the Year
Ohio ACEP would like to thank all the members, faculty, speakers, public officials, and physicians for turning out for the 2017 Emergency Medicine Forum—we are glad many of you were able to experience this special event!
And a special thanks also to all the exhibitors and sponsors for making the Emergency Medicine Forum possible, particularly our Premier Partner, West Virginia University Medicine!


Board of Directors and Councillor Elections
On May 3, in conjunction with the Emergency Medicine Forum in Columbus, Ohio ACEP held its annual elections for Board of Directors and ACEP Councillors.
Drs. John Queen and Brad Raetzke were reelected to the Board of Directors.
Reelected to the Board of Directors and as Councillors were Drs. John Lyman and Daniel Martin.
Drs. Eileen Baker, Dan Breece, Gary Katz, Michael McCrea, and Catherine Marco were reelected for two-year terms as Councillors to represent Ohio ACEP at the annual National ACEP Council meeting, and Dr. John Casey was elected to join the Ohio Council delegation.
Congratulations to these members!
For more photos from the Forum, Like us on Facebook and check out the photo album! And be sure to check out #EMForum17 on Twitter!
Premier Sponsor
---
2017 Event Exhibitors
Allergan USA, Inc.
Avita Health System
CIPROMS Medical Billing
EmCare
Emergency Groups' Office
Emergency Medicine of Indiana
Mallinckrodt Pharmaceuticals
McKesson Business Performance Services
NES Health
Newsura Insurance Services, Inc.
Ohio Air National Guard
Pfizer/BMS
TeamHealth
WPA Emergency Medicine Staffing, LLC
WVU Medicine
---

For more Forum pictures, Like us on Facebook and check out the photo album!