May 3, 2017
Save the Date!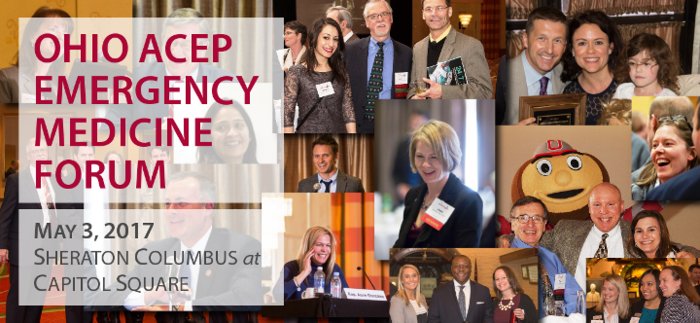 On April 18 and 19 in Columbus, Ohio ACEP held its Emergency Medicine Forum. Attending physicians, EM residents, medical students, and Ohio legislators gathered for this lively day of physician advocacy, leadership topics, medical education, and networking. If you weren't able to join us, here's what you missed!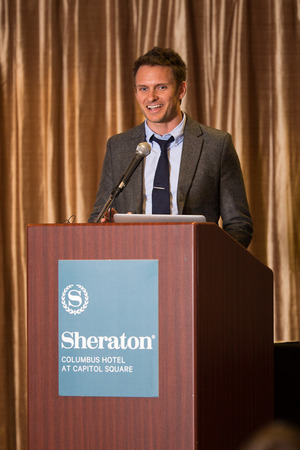 Dr. Ryan McGarry—an emergency physician, writer/director of the acclaimed documentary Code Black, and co-writer/producer of the television drama of the same name—talked about emergency medicine live and on screen. He addressed his life as a resident, the making of the documentary, and the media's effect on public perceptions of medicine. Above all, he inspired the audience by suggesting the ED is our modern equivalent of cathedrals in the Middle Ages: always open, a sanctuary to all, and a haven for those with nowhere else to go. Interspersed with clips from Code Black, attendees surely left the enlightening talk looking forward to checking out the documentary, which is now available on Netflix.
EM Forum attendees gathered at the Ohio Statehouse for Morning Rounds & Coffee Grounds, a wonderful opportunity for emergency physicians to introduce themselves and network with their legislators over coffee. Ohio ACEP members spoke with legislators and their aides about emergency medicine and introduced themselves as valuable resources for healthcare issues.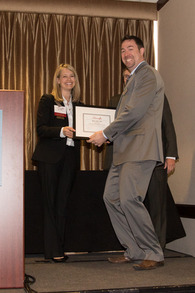 After networking with their legislators, Chapter President, Dr. Michael McCrea, recognized Ohio ACEP's most recent Leadership Development Academy class graduates: Laura Espy-Bell, MD, MHA; Lucy Franjic, MD; Erika Kube, MD, FACEP; Gerald Maloney, DO, FACEP; Jack Palmer, MD, MS; Daniel Schwerin, MD, FACEP; and Ryan Squier, MD.
Dr. Adam Singer presented the first clinical session of the day, "Contemporary EM Perspectives on Venous Thromboembolic Disease", followed by Dr. Brad Raetzke's clinical presentation, "The Heart Failure Management Paradigm: From the ED to Hospital Admission & Discharge."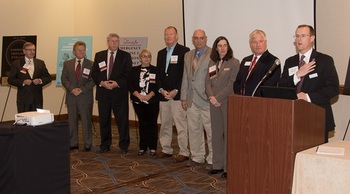 At the Membership Luncheon, we were honored to be joined by guests from National ACEP: President-Elect Dr. Rebecca Parker and ACEP Board Members, Drs. Hans House, John Rogers, and James Augustine, who is also a Past President of Ohio ACEP. Dr. McCrea recognized Ohio ACEP Past Presidents in attendance. Two distinguished Chapter Past Presidents were recognized with special Presidential awards. Dr. James Augustine– Chapter President from 1994-1995–and Dr. Mark DeBard–Chapter President from 1990-1991– received President's Recognition Awards for Leadership and Service. Dr. Rebecca Parker, President-Elect of ACEP, gave an informative update on the activities of the College.
Afternoon highlights:
Dr. Michael Weinstock's informative and entreating clinical education session, "How to Spot the Well-Appearing Patient Who Will Soon Be Dead."
Ohio Attorney General Mike DeWine, who spoke to EM Leadership Forum attendees about the ongoing opioid abuse epidemic and novel law enforcement approaches to confronting the crisis.
Ohio ACEP Annual Awards
| | | | |
| --- | --- | --- | --- |
| | | | |
| Dr. Joan Papp | Dr. Andrew King | Dr. Rory Stuart | Dr. Mary Hancock |
The day concluded with a special appearance from State Sen. John Ecklund who shared a legislator's perspective on the best way to communicate with elected officials, advocate for good public policy, and make a positive difference in the state.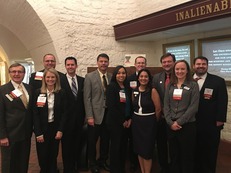 Ohio ACEP would like to thank all the members, faculty, speakers, public officials, and physicians for turning out for the 2016 Emergency Medicine Forum! We are glad many of you were able to experience this special event!

And a special thanks also to all the exhibitors and sponsors for making the Emergency Leadership Forum possible, particularly our Prime Partner, Island Medical Management and our Event Partner, VITAS Healthcare.
Prime Partner:

Event Partner:

---

For more Forum pictures, Like us on Facebook and check out the photo album!