Ohio Emergency Medicine Residents' Assembly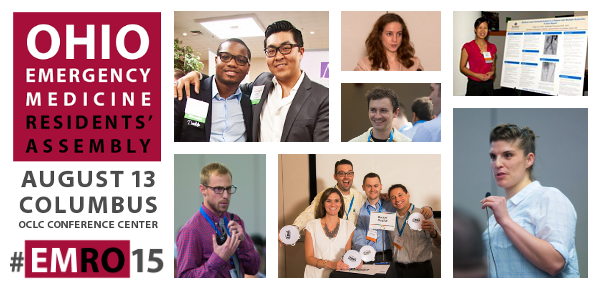 Check out the Faculty:
Eileen Baker, MD, FACEP
Dan Breece, DO, FACEP
Michael Frank, MD, FACEP - Med Mal Threats: What's Hot?
Chris Goliver, MD, FACEP
Hans House, MD, ACEP - ACEP Board of Directors
Nicholas Kman, MD, FACEP
Rubeal Mann, MD, FACEP
Robert Strauss, MD, FACEP - Improving Job Satisfaction While Enhancing the Patient Experience

Poster Competition Judges:
Purva Grover, MD, FACEP - Ohio ACEP President-Elect
Hans House, MD, FACEP - ACEP Board of Directors
Robert Hunter, DO, MPH, FACOEP - Ohio Osteopathic Association Past-President
Catherine Marco, MD, FACEP - Residents' Assembly Chair
Event Location:
The OCLC Conference Center
6600 Kilgore Pl
Dublin, OH 43017

Assembly Registration Rates:
$20 Group Rate for Residents or Medical Students
$30 Individual Resident or Medical Student
$55 Ohio ACEP/ACEP Attending Physician Member
$75 Non-Member Attending Physician
Call 888-642-2374 or Register Online!
Overnight Accommodations:
Drury Inn and Suites Columbus NW
6170 Parkcenter Circle
Dublin, OH 43017
Room Rate: $93 plus applicable taxes; as the room block permits
Reservations: 1-800-325-0720 (Request the Ohio ACEP Group #2232500!)
www.druryhotels.com
Highlights from the
2014 Ohio Emergency Medicine Residents' Assembly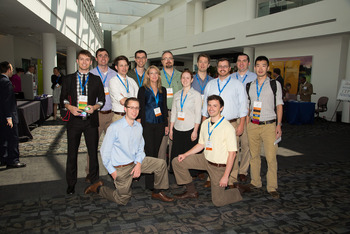 On August 14, 2014, in Columbus, Ohio ACEP held its Ohio Emergency Medicine Residents' Assembly! More than 160 residents, medical students, and leaders from Ohio ACEP, National ACEP, and EMRA gathered for the event, and 17 of Ohio's 18 emergency medicine residency programs were represented.
We kicked off the Assembly with a personal welcome from Dr. John Lyman, Ohio ACEP President, and Dr. Alex Rosenau, President of ACEP. Dr. Lyman introduced residents and medical students to the Ohio Chapter by describing Ohio ACEP's three strategic pillars—Advocacy, Education, and Leadership. Dr. Rosenau highlighted our shared goals, including:
Limited liability reform for EMTALA-mandated care
Fair payment and reimbursement for emergency physicians
Protecting patient access to quality emergency care
Preserving the ability to serve patients in a time-critical environment
Dr. Catherine Marco led a "Life After Residency: Practice Options Panel" that explored some of the pros and cons of various emergency medicine practice environments so that residents can pick the option that fits them best. Thanks to our panelists!
Dr. James Augustine
Dr. Eileen Baker
Dr. Dan Breece
Dr. Rita Cydulka
Dr. Alex Rosenau
Dr. John Tafuri
The Assembly networking options featured more than 20 exhibitors, many actively recruiting for open positions in Ohio and around the country. During breaks, the judges for the inaugural Ohio ACEP Poster Competition (Dr. Ann Dietrich, Ohio ACEP Medical Director; Dr. Purva Grover, Ohio ACEP Board of Directors and Poster Chair; Dr. Hans House, ACEP Board of Directors; and Alex Rosenau, President of ACEP) checked out each research poster and finalized their score cards!
Ohio ACEP Poster Competition Participants
Dr. Rajiv Bahl and Mr. Nathan Marcinkowski
The University of Toledo Medical Center
Chronic Conditions Associated with Underlying Depression in Emergency Department Patients

Dr. Aditi Jayannth
Case Western Reserve University/MetroHealth
Ventriculoperitoneal Shunt Migration into the Urethra, Presenting as Urinary Incontinence in a Child

Dr. Ginny Lee
Summa Health Akron City Hospital
Lower Extremity Emboli in a Patient with MS: A Case Report

Ms. Joanna Marco
The Ohio State University College of Medicine
Iatrogenic Contact Dermatitis Following Abscess Incision and Drainage

Dr. Kseniya Orlik
Akron General Medical Center
Non-Trauma Emergency Department Radiology Throughout: A Tertiary Care Center Compared to Three Freestanding EDs -and-
ED Trauma Radiology Throughout times: A level 1 Trauma Center compared to Three Freestanding EDs


Drs. Jessica Rando and Derek Broering
Wright State University
Intranasal Naloxone Administration by Police First-Responders is Associated with Improved Survival of Opioid Overdose Victims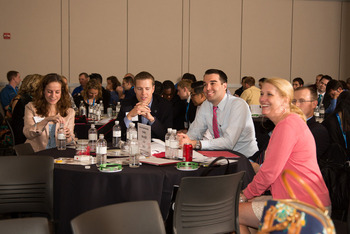 At lunch, Ohio ACEP Past President and former ACEP Council Speaker, Dr. Mark DeBard, talked to the residents about the many ways to get involved in leadership at ACEP, Ohio ACEP, and EMRA. Five candidates answered his call to action by running for the Resident Representative on the Ohio ACEP Board!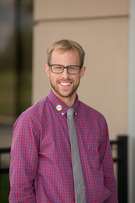 Congratulations to Dr. Tyler Hill of Marietta Memorial Hospital, who was elected by his fellow residents!
At the Assembly, EMRA execs took to the stage to challenge attendees with a spirited game of EMRA Quiz Show! The teams were:
Adena Health and Affinity Medical Center
Case Western Reserve University/MetroHealth
Doctor's Hospital
Grandview Medical Center, The Ohio State University, and South Pointe
Marietta Memorial Hospital
Mercy St. Vincent Medical Center
Southern Ohio Medical Center
St. Joseph Health Center and Summa Western Reserve
St. John Medical Center
University of Toledo
Wright State University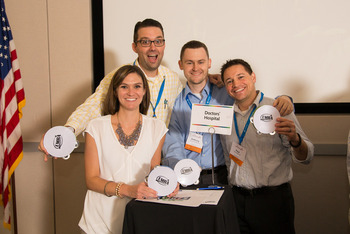 The Quiz Show included five rounds of white-knuckle trivia: Tales from the Grim Reaper; Eponyms; Endocrinology; Visual Diagnosis; and Celebritysaurus!
The Quiz Show runner up was the University of Toledo Medical Center. And though the competition was fierce, there could be only one winner: Wright State University! Congratulations, Raiders!
The day's final featured speaker, Dr. Kevin Klauer gave a "Life After Residency" reality check with his High Risk Emergency Medicine talk! The interactive workshop was lively, and Dr. Klauer did a great job of injecting some fun into his presentation!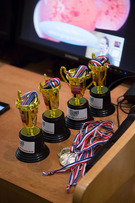 Dr. John Lyman closed out the day by announcing the winner of the Poster Competition. The competition was tough, but when the judges' scorecards were tallied, Drs. Jessica Rando and Derek Broering were the winners! The two Wright State EM residents and their poster—Intranasal Naloxone Administration by Police First-Responders is Associated with Improved Survival of Opioid Overdose Victims—won the very first Ohio ACEP Poster Competition and a $250 cash prize!
Ohio ACEP would like to thank all the faculty, panel speakers, and Chapter members for turning out to experience the Ohio EM Residents' Assembly!
And we would also like to extend a special thanks to the Assembly's sponsors. Without them, the Assembly wouldn't have been possible!

---
Prime Partners


---
Interested in supporting the August 13, 2015 Ohio Emergency Medicine Residents' Assembly?
More information on exhibit and sponsorship opportunities.
---
Poster Competition
Abstracts Due July 1

Poster Competition Guidelines
---
Pick Your 2015 Quiz Show Team!

---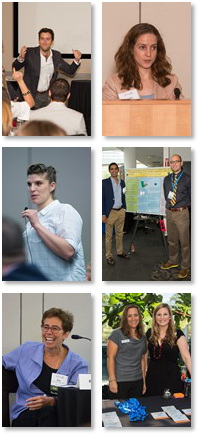 ---
Photographic Image Consent
Registration and attendance at or participation in Ohio ACEP events constitutes an agreement by the registrant to Ohio ACEP's use and distribution (both now and in the future) of the registrant or attendee's image in photographs or likeness in connection with the use and promotion of the chapter, chapter leadership, and chapter activities and programs including portraits, still pictures or other photographic reproductions in print or online.