Save The Date!
August 11, 2016
Ohio Emergency Medicine Residents' Assembly
Featuring: Dr. Anad Swaminathan of EMRAP!
Location: Renaissance Columbus Downtown Hotel in Columbus, OH 43215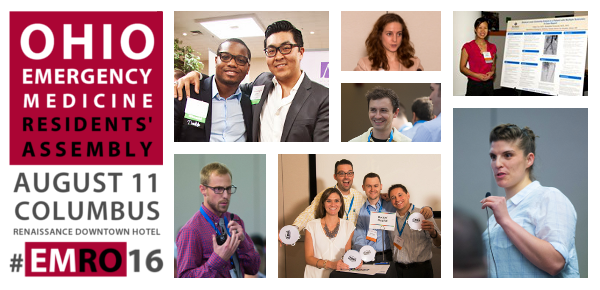 2015 Ohio Emergency Medicine Residents' Assembly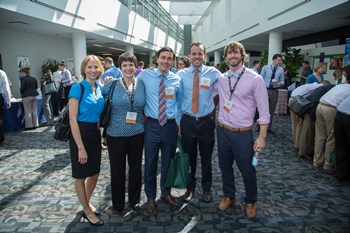 On August 13, 200 residents, medical students, and leaders from Ohio ACEP, National ACEP, and EMRA gathered for the Ohio Emergency Medicine Residents' Assembly in Columbus. 19 of Ohio's 21 emergency medicine residency programs were in attendance for Ohio ACEP's signature event supporting EM residents and medical students.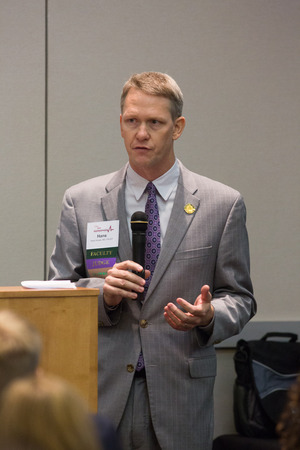 The Assembly kicked off with a welcome from Ohio ACEP President, Michael McCrea, MD, FACEP, and National ACEP Board Member, Hans House, MD, FACEP. To introduce residents and medical students to Ohio ACEP, Dr. McCrea began his greeting by outlining the three pillars of Ohio ACEP—Advocacy, Education, and Leadership. Dr. House went on to explain why it's so important for residents to get involved in advancing emergency medicine and some different ways to make a difference for fellow physicians and patients.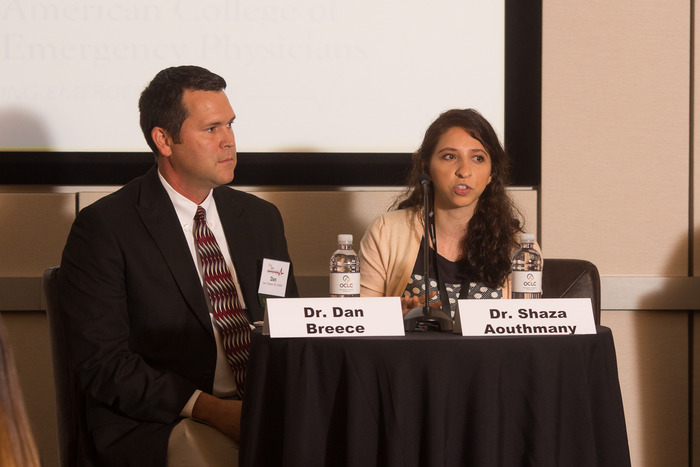 The day's program began with the "Life After Residency: Practice Options Panel," led by Eileen Baker, MD, FACEP. Because many new EM attendings change positions in the first year of their career, the panel was designed to explore the pros and cons of different EM work environments and to help residents decide which environment might best suit their personal and professional goals. Residents gained important insights from:
Shaza Aouthmany, MD – Locum Tenens
Dan Breece, DO, FACEP – Marietta Memorial Hospital (Hospital Employee)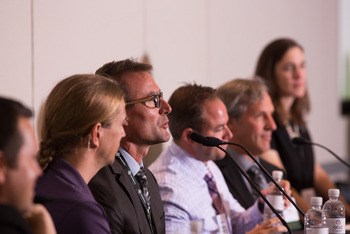 Tom Carter, DO, FACEP – EPMG (National Democratic Group)
Chris Goliver, MD, FACEP – Wood County Hospital (Small Democratic Group)
Nicholas Kman, MD, FACEP – The Ohio State University Medical Center (Academic at a Teaching Hospital)
Robert Strauss, MD, FACEP – TeamHealth (Large National Contract Group)
The morning networking break featured 25 exhibitors, many actively recruiting for open positions in Ohio and nationwide. During the break, our Poster Competition entries were evaluated and scored by our panel of judges:
Purva Grover, MD, FACEP – Ohio ACEP President-Elect
Hans House, MD, FACEP – ACEP Board of Directors
Catherine Marco, MD, FACEP – Ohio EM Residents' Assembly Chair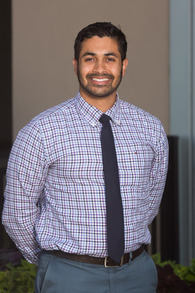 At lunch, three candidates answered our call to get involved in EM leadership by running for the Ohio ACEP Resident Representative to the Ohio ACEP Board. Congratulations to Nikhil Mohan, DO, of Mercy St. Vincent Medical Center, who was elected by his fellow resident members!
After lunch, EMRA challenged attendees to compete in the always-exciting EMRA Quiz Show! Fourteen teams faced off to claim the 2015 trophy:
Affinity Medical Center, South Pointe Hospital, and Case Western Reserve Hospital
Adena Health System
Case Western University at MetroHealth
Grandview Medical Center
Mercy St. Vincent Medical Center
The Ohio State University
OU-HCOM/Doctors Hospital
OU-HCOM/Marietta Hospital
OU-HCOM/Southern Ohio Medical Center
St. John Medical Center - 2015 Quiz Show Champion!
Mercy Health St. Joseph Warren
Summa Akron City Hospital
University of Toledo Medical Center
Wright State University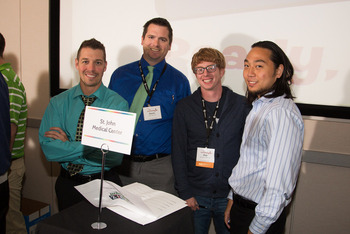 After four epic rounds of white-knuckle trivia, four teams tied for second place: OU-HCOM/Marietta Memorial Hospital; Wright State University; Grandview Medical Center; and Summa Health System/Akron City Hospital. The Quiz Show 2015 grand champion was St. John Medical Center. Congratulations, St. John Residents!
Following the EMRA Quiz Show, Robert Strauss, MD, FACEP, inspired us with his session, "Improving Job Satisfaction While Enhancing the Patient Experience," where he discussed the important links between keeping patients happy, professional fulfillment, and preventing burnout.

Then, Michael Frank, MD, JD, FACEP engaged attendees with his workshop, "Emergency Medicine Med Mal Threats: What's Hot?" During the session, Dr. Frank explained to residents how to avoid malpractice suits and how to handle them if they happen.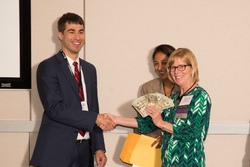 Dr. Michael McCrea closed out the 2015 Ohio EM Assembly by announcing the Poster Competition Case Study Winner—Garrett Bassett, MD [left]; "Epidural Abscess Secondary to Frontal Sinusitis in an Immunocompetent Child—and the Original Research winner—Andrew Little, DO, and James Schneller, DO; "Effectiveness of Learning Video Laryngoscopy Systems." Each team won $500 in cash! Congratulations to everyone who competed!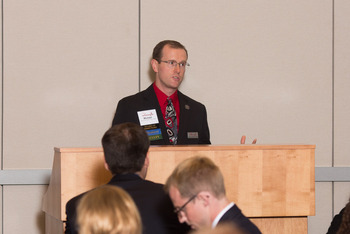 Ohio ACEP would like to thank all the exhibitors, sponsors, faculty, and panelists, as well as leaders from ACEP, Ohio ACEP, and EMRA for making the 2015 Ohio Emergency Medicine Residents' Assembly such a great event!
And we would like to extend a special thanks to The Residents' Assembly Prime Partners, 4M Emergency and EmCare. Without them, the Assembly would not have been possible!
For more photos from the Ohio Emergency Medicine Residents' Assembly, Like us on Facebook and check out the photo album!
Ohio ACEP Poster Competition Participants
Case Study Posters:

Vaping Inhalation Injury: Case Report
Presenters: Dr. Andrew Barlow and Ms. Ellen Berry
OU-HCOM Southern Ohio Medical Center

Nausea, Vomiting, and Headache Following Blunt Trauma: A Pediatric Case of a Vertebral Artery Dissection
Presenters: Drs. Benjamin Holland and Dr. Devin Burrup
Wright State University


A Case of Nitroglycerin Included Asystole In A Patient with Chest Pain
Presenter: Dr. Eugene Kang
Wright State University

Original Research Posters:

Brain edema is a predictor of clinical outcome in traumatic brain injury
Presenter: Dr. Brian Tucker
Wright State University


Effectiveness of Learning Various Video Laryngoscopy Systems
Presenters: Dr. Andrew Little and Dr. James Schneller
OU-HCOM/Doctors Hospital
1st Place Research Poster
Posters not pictured:
Epidural Abscess Secondary to Frontal Sinusitis in an Immunocompetent Child
Presenter: Dr. Garrett Bassett
Adena Regional Medical Center
1st Place Case Study Poster
Atypical Presentation of Kawasaki Disease
Presenter: Dr. Aaron Clark
Summa Health System
PRES: An Undiagnosed Condition in the ED
Presenters: Dr. Jed Millar and Dr. Anna Ciullo
Summa Health System
Interested in supporting the
August 11, 2016
EM Residents' Assembly?

Download the 2016 Ohio ACEP Exhibitor and Sponsorship Prospectus!
---
Thanks to EMRA for bringing their Quiz Show to the 2015 Residents' Assembly!

---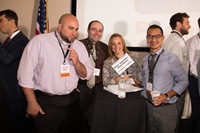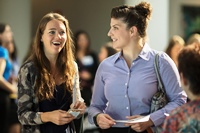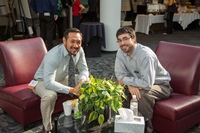 ---
Photographic Image Consent
Registration and attendance at or participation in Ohio ACEP events constitutes an agreement by the registrant to Ohio ACEP's use and distribution (both now and in the future) of the registrant or attendee's image in photographs or likeness in connection with the use and promotion of the chapter, chapter leadership, and chapter activities and programs including portraits, still pictures or other photographic reproductions in print or online.