Dr. Carol Rivers' Written Board Review Products
Can't attend a board review course?
Need a comprehensive EM review for certification, recertification or in-service exam prep?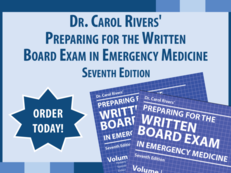 Dr. Carol Rivers' Preparing for the Written Board Exam
in Emergency Medicine, Seventh Edition
Release Date: January 2014
Dr. Carol Rivers' blue books are known worldwide as the most trusted text used to prepare for the written board exam. This powerful board study program is available in a 2-volume text covering 23 academic topics with over 500 pre-chapter questions and answers. The newest 2014 edition features four new chapters Systemic Infectious Disorders, Procedures and Skills, Immune System Disorders and Other Core Competencies. The text has been enhanced with hundreds of images, bold text highlighting critical facts and clinical scenarios added to each chapter. The seventh edition also includes access to a web-based version.

Preview the Overall and Chapter Table of Contents
Cardiovascular Disorders Chapter Preview
Cutaneous Disorders Chapter Preview
Environmental Disorders: Practice Clinical Scenarios Preview



Note: Physician Assistants may order products at the Resident Price.
Return Policy: Dr. Carol Rivers' Board Review Products are non-returnable and non-refundable. No exceptions.
Sessions on Demand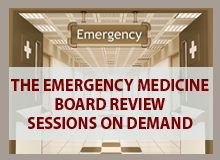 Online EM Board Review Course.
Watch at your convenience!
Includes 51 lectures with PowerPoints, Synced Audio and Course Syllabus.
---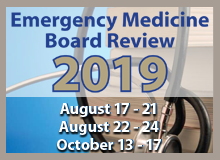 Looking for a LIVE Emergency Medicine Board Review Course?

For more information about the EM Review course
and to register online click here!
---
6th Edition
- Written Board Select Dermatology Images
- Written Board Ultrasound Images Page 565
- Written Board Errata List - 6th edition

7th Edition
- Written Board Errata List - 7th edition
---
Dr. Carol Rivers'
Oral Board Review
To order your Rivers' Oral Board review products click here!