01/17/2014
ACEP Releases National Report Card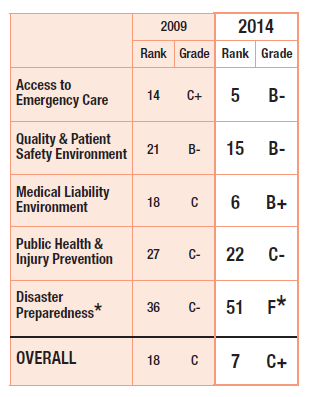 *Ohio's grade in the Disaster Preparedness category was caused by a miscommunication, resulting in a grade that included incomplete data. It's estimated that if the revised survey results from Ohio were used, its Disaster Preparedness grade would be a C or C-.
We have worked with ACEP to make sure the EM Report Card website and future electronic media reflects Ohio's revised grade, or the data correction.
On Thursday, January 16, the American College of Emergency Physicians (ACEP) released its highly-anticipated state-by-state Report Card on America's emergency care environment. In the Report Card, Ohio moved from 18th place in 2009 to 7th in 2014, and received an overall grade of C+. Ohio's full Report Card can be seen here (PDF).
Dr. John Lyman, President of Ohio ACEP, said he was pleased that Ohio had ranked highly among the states, but pointed out Ohio still has work to do in key areas.
"Ohio has made improvements to people's access to emergency care, but the state still has a high proportion of adults without health insurance, and Medicaid reimbursement levels have decreased, which poses significant challenges for Medicaid patients getting access to primary care," said Dr. Lyman. "The proportion of adults with unmet needs for substance abuse treatment has increased in Ohio since the last Report Card, and the state has a high rate of poisoning-related deaths. These are areas we need to work on."
One driver of poisoning-related deaths is unintentional drug overdose, a problem exacerbated by Ohio's prescription opioid abuse epidemic. Dr. Lyman said Ohio ACEP would continue to work closely with state policymakers, who have actively confronted the problem.
Ohio ranked 5th in the nation in the category of Access to Emergency Care with a B- grade. This is an improvement over the 2009 rank of 14th with a grade of C+, and reflects an increase in the number of emergency physicians and other medical specialists in the state. The B- grade in the category of Quality & Patient Safety was unchanged from 2009.
Ohio lacks key traffic safety provisions, such as helmet laws for motorcycle riders and a ban on handheld cellphone use for all drivers, which is one reason the grade for Public Health & Injury Prevention of C- remains unchanged from 2009. The state improved from 18th place to 6th place and earned a B+ for Medical Liability Environment, having implemented expert witness rules and a cap on non-economic damages.
Dr. Lyman said Ohio ACEP looks forward to its continued collaborative efforts with statewide partners to build upon its successes and address weaknesses in Ohio's emergency care environment.
"America's Emergency Care Environment: A State-by-State Report Card – 2014" evaluates conditions under which emergency care is being delivered, not the quality of care provided by hospitals and emergency providers. It has 136 measures in five categories: access to emergency care (30 percent of the grade), quality and patient safety (20 percent), medical liability environment (20 percent), public health and injury prevention (15 percent) and disaster preparedness (15 percent). While America earned an overall mediocre grade of C- on the Report Card issued in 2009, this year the country received a near-failing grade of D+.
ACEP's complete Report Card can be downloaded here (PDF).