Save-the-date
2015 Emergency Care Conference
February 26 - March 1, 2015


The 22nd Annual Emergency Care Conference was a great success. Thank you to all who attended. Check out what you missed.

---

Since 1994, this award has been presented to an individual for his or her exemplary leadership and significant contributions to trauma education on behalf of ITLS Ohio.
---
2014 Outlines
Please note if outlines are not listed below we do not have permission to most them online or an outline was not provided.
Bomb and Blast Injuries
Chest Trauma by the Numbers
Concussion Management
Life or Limb
Lights Sirens and Geritol - Geriatrics in EMS
Medical Aspects of Radiation Incidents
Medical Errors in EMS
Pediatric Pain Management
Sepsis A Silent Killer
Special Considerations of Caring for the Elderly
Spinal Immobilization Techniques and Decision Making
Toxicology 101 Recreational Pharmacology & Suicide
---
Brought to you by:
---
Ohio's Premier EMS Conference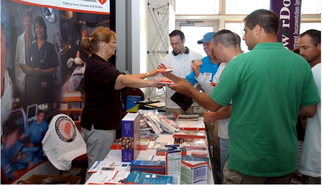 Thank you to our 2014 Sponsors/Exhibitors
Thank you to the following exhibitors and sponsors who have pledged their support for the 2014 Emergency Care Conference.
911 Fleet & Fire Equipment
Air Eval LifeTeam
Bound Tree Medical
Brady/Pearson
Burgess Ambulance & Lake Erie Whole Sale
ESO Solutions
Henry Schein EMS
International Trauma & Life Support
Jones & Bartlett Learning
MMS - A Medical Supply Company
Masimo
MedFlight
Meridian Medical Tech., Inc.
Metro Life Flight
Nationwide Children's Hospital
Nightgale - Alan Medical Equipement Services LLC
O.E. Meyer Co.
Ohio EMS for Children
OhioHealth - Riverside Methodist Hospital & Grant Medical Center
Philips Healthcare
Physio-Control
Southeastern Emergency Equipment
Stark Medical Auditing and Consulting
STAT MedEvac
Stryker EMS
The Ohio State University Center for EMS
Zoll Medical Corporation
Partner with ITLS Ohio to have the opportunity to interact with nearly 450 emergency medical service personnel including EMTs, paramedics and nurses from Ohio and the surrounding states.
For more information about exhibiting and
sponsorship opportunities e-mail wbloch@itraumaohio.org or call 614-792-6506.