Exhibit & Sponsorship Opportunities
With more than 1,500 members, including attending physicians, emergency medicine residents, and medical students, The Ohio Chapter of the American College of Emergency Physicians (Ohio ACEP) is proud to be one of the largest and most active chapters in the country.
If you are interested in communicating directly with Ohio emergency physicians and EMS professionals, consider exhibit and sponsorship opportunities at one of the annual events hosted by Ohio ACEP. Ohio ACEP also facilitates Board Review courses that attract a national audience of emergency physicians and residents. Each event offers exhibit opportunities, as well as the chance to maximize your investment with sponsorship and partnership options. We welcome vendors that market educational tools, software, and patient management solutions, as well as publishers and non-profit organizations.
Contact Ohio ACEP to discuss how your organization can be a featured part of our upcoming events.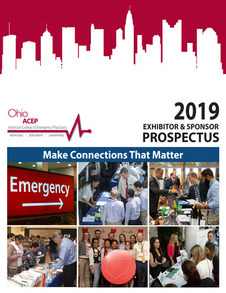 Download the 2016 Ohio ACEP Exhibitor and Sponsorship Prospectus!

Calendar of Events
---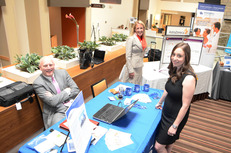 Who Attends? Ohio emergency medicine residents, medical students and residency program faculty and staff.

Ohio boasts 21 Emergency Medicine residency programs so don't miss out on one of the best opportunities to interact with Ohio's Emergency Medicine residents and medical students.
Attendees gather to network and learn about life after residency, career paths and much more!
This is your organization's chance to exhibit at the Assembly's popular Career Fair and interact directly with EM residents actively seeking that next step in their career. Maximize your organization's visibility by sponsoring the Residents' Assembly. Past exhibitors have described this event as "Busy & Productive"; "Freaking Awesome;" "Very Engaging;" and "A Superb Opportunity."
---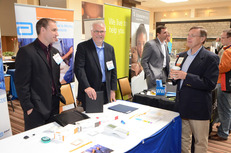 Who Attends? Emergency Medicine attending physicians and residents, internal medicine, family practice and advanced practice providers from around the World.

This CME and board preparation resource draws emergency physicians working to pass certification exams, meet CME requirements and other emergency medicine professionals seeking a comprehensive review of the core content of emergency medicine. A dedicated central exhibit space allows for significant opportunities to connect with attendees.
---
Who Attends? Pre-hospital and trauma care professionals from around Ohio and the tri-state area including: EMTs & first responders, Paramedics, Critical Care Nurses, EMS administrators and professionals
By partnering with ITLS Ohio at the Emergency Care Conference, you will have the opportunity to interact with over 400 emergency medical service personnel! In its 25th year, the Emergency Care Conference is Ohio's premier EMS continuing education conference.
More information coming soon!
---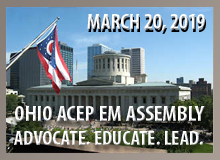 Who Attends? Ohio emergency medicine attending physicians and residents, legislators and government officials.

The Emergency Medicine Leadership Forum will provide emergency physicians with the tools they need to be effective participants in the legislative and regulatory arenas. This event also includes the Ohio ACEP Annual Elections and Awards. This event is attended by Ohio's top leaders in Emergency Medicine and will allow you the opportunity to network with the decision-makers!


---


Our career center is a forum to post employment opportunities.
To post a job opening please visit the