Emergency Medicine Written Board Review Courses
Ohio ACEP's Emergency Medicine Board Review courses offer a comprehensive review for physicians preparing for a certification, recertification or inservice exam. Many physicians and advanced practice providers who treat urgent medical conditions attend our course for continuous certification and a review of the core content of emergency medicine. This premier board review course is attended by hundreds of physicians each year.

Register Today to attend an Ohio ACEP Emergency Medicine Board Review Course!
2018 Course Dates & Registration
The Ohio ACEP Emergency Medicine Board Review - Columbus, OH
- August 18 - 22, 2018 (5 day course)

-

Online registration is now closed. Registrations will be accepted on-site at the course or call the Ohio ACEP office at 614-792-6506.

- October 12 - 16, 2018 (5 day course) - Register Online!


Fast Facts Emergency Medicine Board Review - Columbus, OH
- August 23 - 25, 2018 (3 day course) - Register Online!


---
What is included with course registration?
Course Material
• Extensive Daily Course Syllabus! A powerful, comprehensive tool for review. Updated each year! Printed and electronic web-based versions provided.

• Pre, Post & Daily Tests totaling over 400 questions - Pre-tests are sent with every registration confirmation. Post tests are given to attendees at onsite registration. Syllabus booklets include questions that review the targeted course material covered each day.
• Key Facts (50+ pages) included in syllabus to reinforce key concepts of Emergency Medicine. Covering 26 topics this is the perfect tool for every stage of your review process.
• Online access to Ohio ACEP's Pharmacology/Toxicology Case Studies workbook with 60 cases for review.
• Web access to 1,400+ full color diagnostic photos, radiographs and ultrasounds, complete with case questions organized into 23 categories.
• Case questions e-mailed periodically to guide your studies before attending the course.
Additional Review Opportunities
• Focused, team led rapid review and rapid fire board preparation sessions.
• Faculty reviews of select cases and images from Ohio ACEP's online stimuli Web site.
Course Extras
• A continental breakfast will be available to those staying at the hotel.
• All participants receive morning and afternoon coffee breaks.
• Complimentary Wi-Fi access in meeting space and guest rooms within the group block.
Sessions on Demand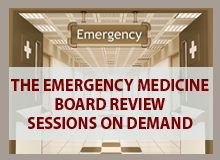 Online EM Board Review Course.
Watch at your convenience!
Includes 52 lectures with PowerPoints, Synced Audio and Course Syllabus.
---
Dr. Carol Rivers'
Written Board Review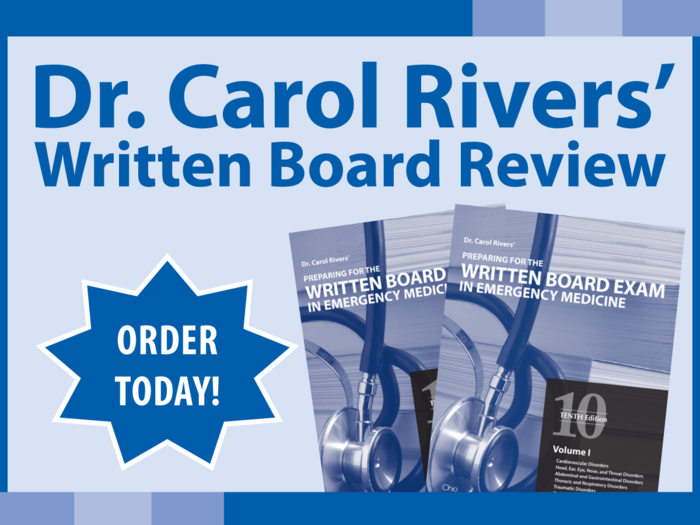 Preparing for your exam?
Looking for opportunities for self assessment and review of emergency medicine?
Dr. Rivers' nationally recognized Board Review materials Preparing for the Written Board Exam and the Oral Board Exam in Emergency Medicine are excellent tools for examination preparation.
To order your Rivers' Board Review products click here!

Follow @RiversEMReview
Dr. Rivers' Critical Q&A on Twitter
For more quiz questions and board review updates, follow @RiversEMReview!
Q: A patient who has an acute disturbance of consciousness, cognition and perception has what type of illness?
A: Acute delirium
---
ABEM Exam Dates
Concert Exam
September 24 - 29, 2018

Qualifying Exam
November 5 - 10, 2018
---
Course Disclaimer
Ohio ACEP makes every effort to ensure that speakers at Chapter sponsored courses are knowledgeable authorities in their field. Attendees are advised that statements and opinions expressed by course speakers are those of the speakers, not of Ohio ACEP.
Speakers' statements and/or opinions should not be construed as Ohio ACEP's policy or recommendations, and Ohio ACEP disclaims any liability for the consequences of any actions taken in reliance upon them. Products/services exhibited by organizations other than Ohio ACEP are not endorsed by the Chapter. Further, Ohio ACEP disclaims any liability for use of such products/services. Speakers and times are subject to change without notice and at our discretion. Ohio ACEP is not affiliated with ABEM.
Due to the nature of this course, we cannot allow children and guests in the course rooms. No exceptions.